Oh cranberry sauce. One of the most underrated things on the Christmas table. It can save a turkey that's dried out a little, cover the taste of those over-boiled sprouts which someone insisted in bringing (incidentally we're roasting ours this year with cumin seeds and lardons; sprouts are best when they don't just taste of sprouts). But best of all, cranberry sauce is there to make those leftover turkey sandwiches sing.
Yes, it's yet another thing to make and can easily be bought at reasonable quality in a jar, but let me reassure you that this is really easy. It takes about ten minutes and is way better than anything you'll find on a supermarket shelf.
In this recipe there's a bit of sweetness, a bit of earthiness, a bit of tartness and just a little slug of port to make it all the more delicious. Not convinced by the rosemary? Try my more citrus-flavoured cranberry sauce.
I love this recipe, indeed the contents of this very jar will be appearing on our Christmas table this year.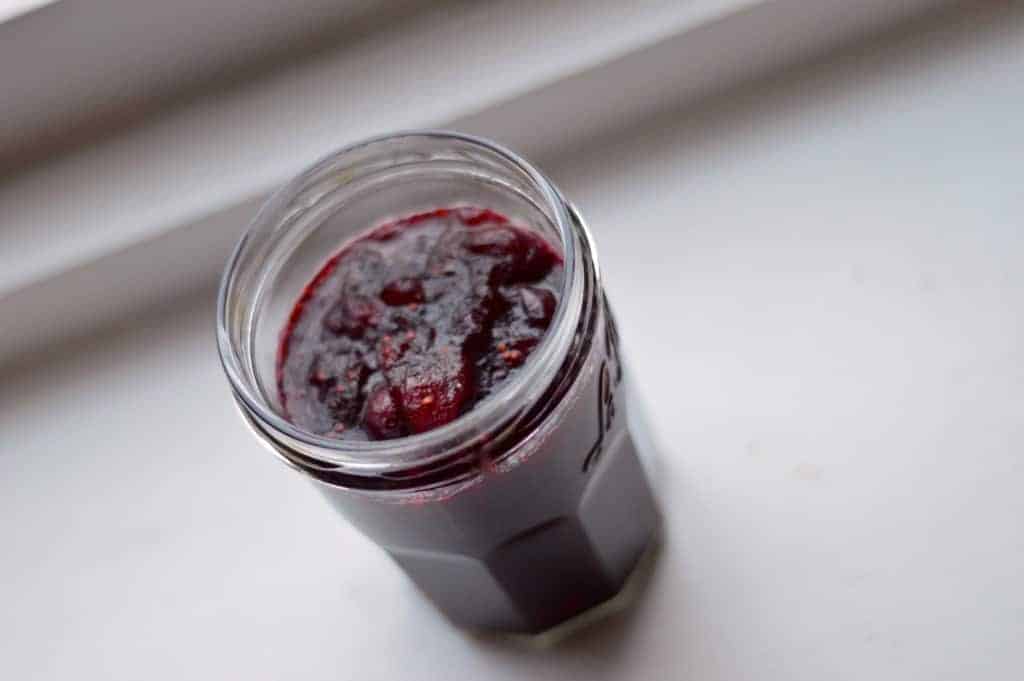 10 minute cranberry sauce
This cranberry sauce is ridiculously easy to make (it really does take about 10 minutes). It makes about a jar-full. You can use frozen cranberries, but obviously it will take a couple minutes longer. This recipe is quite tart, so taste and add a little more sugar if you feel so inclined.
Ingredients
500g cranberries
100ml port
3 sprigs rosemary
1 tbsp orange marmalade
1 tbsp dark brown sugar
Directions
Get a medium sized saucepan on the hob at a medium heat, and pour in your cranberries. Add the rosemary, marmalade and sugar on top. Stir through and leave to heat for a minute or two. Pour in the port, stir again.
Cook, stirring every minute or so until most of the cranberries burst, then allow to cool slightly before putting into a sterilised jar.
Keep in the fridge until Christmas (and it will last a couple of weeks afterwards as well).